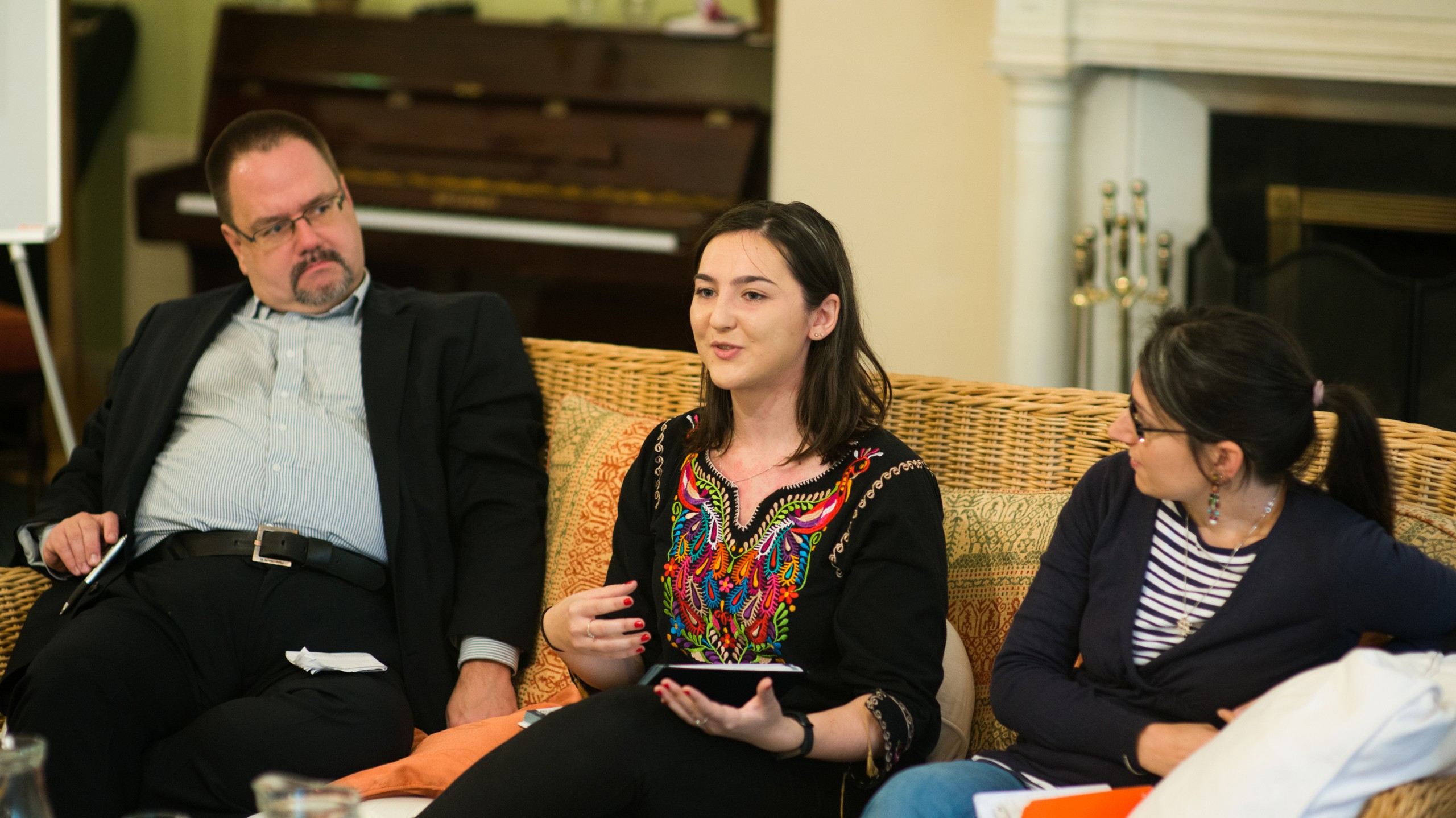 The WSCF-Europe office is based in Trento, Italy. A part of our team is based there and the rest of our team works from their diverse countries of residence across Europe. Our staff work closely with the European Regional Committee, as well as the other regions and partners.
The team is composed of:
My name is Natia Tsintsadze. I was born in Georgia; currently, I am based in Italy. I serve WSCF as the Executive for Europe region and Interfaith Programme Director since October 2014.
I have been long engaged with the Federation and its member movement in Georgia. In 2013 I was cooperating with the regional leadership in Europe through the interfaith youth network. I am committed to social justice, equality and diversity. I am passionate about human rights, empowering communities and the incredible value that the multi-religious collaboration brings to public life.
My academic and research background is in diplomacy, political and social sciences. I hold a Master in Comparative Developments Studies from the University of Trento and Corvinus University of Budapest and a MA in History of Diplomacy and International Relations from the Tbilisi State University. I have extensive experience working with international organisations, national human rights organisations, research institutions, European multi-faith and advocacy networks. I have been delivering projects as a trainer, manager and consultant in a wide range of topics, including human rights, intercultural and interfaith dialogue, freedom of religion or belief, peacebuilding, social inclusion, civic education, democratic participation and leadership.
My current activities and responsibilities include overall operational management, development and improvement of the WSCF community. Work closely and collaboratively with the Global Executive and Regional Committee Members and contribute to developing and implementing a wider organisational strategy fulfilling the Federation's mission and goals. Establish and maintain relationships with key stakeholders, including international and European institutions (EU, CoE) senior religious leaders, executive staff, ensuring that these relationships are managed effectively and appropriately. Responsible for oversight of all grants management, fundraising for core budget, ad-hoc projects and legacy programmes. Plan, coordinate and implement global and regional Strategic Programmes and projects. Oversee a team of project staff, including interns and volunteers, manage the office's full administration.
I can be reached at the email address: wscf@wscf-eruope.org.
My name is Maria and I am originally from Romania, although I currently live in the UK. I serve WSCF-Europe as Communications Officer since 2017, and I have previously been the Social Responsibility Coordinator for The InnBetween, WSCF affiliated movement in the Netherlands. Outside of WSCF-Europe, I am a civil servant, working on the commissioning of health, education and other services for children in youth custody in England and Wales. 
As Communications Officer, I support the team's communications and marketing, including: managing and developing content for our website and social media, producing publications (e.g. annual reports, newsletters), designing posters and other promotional materials, publishing blog posts etc. I also support our advocacy work by: aligning our communications to the messages our campaigns want to deliver, supporting the delivery of training sessions, activities and conferences for young people across Europe, and representing WSCF-Europe at partners events.
If you are interested in communications, getting involved with WSCF-Europe or just have a question to ask, don't hesitate to contact me at communications@wscf-europe.org.
My name is Daniel Jara and I was born in Ecuador. I currently live in Germany where I did my master studies and I currently perform my Ph.D. research on the topic of intercultural theology, ecumenism, and the role of the body in religious practices.
I have been involved in the work of WSCF-E since the year 2018 when I had the opportunity to attend the study session "How Is Peace Possible?" at the European Youth Centre in Strasbourg. Afterward, I participated in WSCF-E workshops in Greece and Georgia.
I currently work as Editor-in-Chief of MOZAIK, the ecumenical journal of WSCF-E. As part of this position I solicit, receive and process new contributions to the journal issue; I am in permanent communication with the contributors and editors; I edit the texts and the journal, and I  carry final responsibility for its publication.
If you would like to contact me, you could do it at mozaik@wscf-europe.org.
My name is Matthew Friesner, I am from the United States and currently reside in Milwaukee, Wisconsin, where I am a student in the M.A. program in Philosophy at Marquette University.
I am also interested in Theology and studied previously at the Rheinische Friedrich-Wilhelms-Universität Bonn, where I received my M.A. in Ecumenical Studies in 2018. My predominant academic areas of interest are philosophy of religion, German philosophy, ecumenical theology, and history of Christianity.
I am an Editor for MOZAIK and have volunteered for the journal since January 2019. As an Editor, I am responsible for proofreading, editing and revising article submissions for the journal. My purpose is to ensure articles maintain grammatically correct and idiomatically accurate English, without altering the content of the essays.
If there are any questions or concerns, it is best to contact me at my email address, which is friesner21@gmail.com. I generally am able to respond within two to three business days.
I am Andrea, a graphic designer from Croatia.
After I finished my Master's degree in design at the University in Zagreb, I immediately started to work in the fields of graphic and web design, as well as photography and videography. Combining all these creative fields in almost every project, I am able to deliver a complex project from scratch.
Currently, I work as an Art Editor for Mozaik printed issues. Besides that, I run a Croatia-based design studio that serves clients across the globe. My email: info@studioidearium.com.