European Regional Committee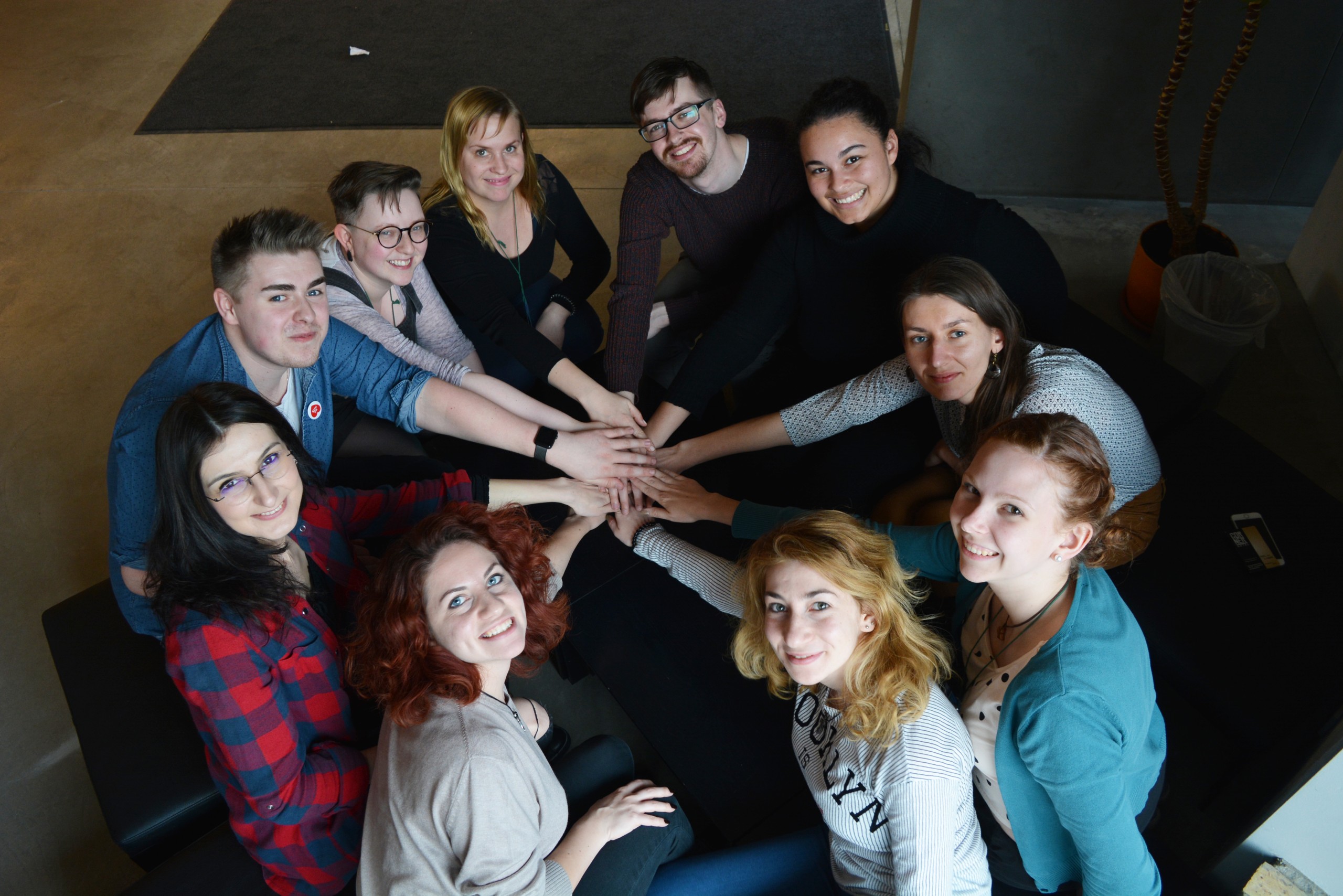 The European Regional Committee (ERC) is elected to carry the work of WSCF-Europe together with the WSCF-Europe members of staff. We are young volunteers, who are dedicated to the work and life of WSCF-Europe. Besides implementing the work suggested by the ERA, we work with the SCMs, other regions and partners. We get our mandate from the European Regional Assemblies (ERAs) that happen every other year.
Our main role is to manage the work of WSCF-Europe as the key decision-making body of the Federation in Europe between ERAs. The ERC consists of:
Responsibilities:
Facilitate the work of ERC and Board
Keep an overview of the activities and projects of the region
Meet with partners and donors
Strategic organisational development
My name is Christiane Ehrengruber. I am a protestant Theologian working in Digital Communication in an ecumenical organization in Hamburg, Germany, and am Chairperson of WSCF-Europe as of October 2019.
I got involved with WSCF-E in 2016, when the German national level delegated me to attend events and represent Germany at the European Regional Assembly 2017. There, I was elected as Program Coordinator, which has been a great experience for me.
In my role as Chairperson, my primary responsibilities are the coordination of the work of the European Regional Committee as well as the board, strategic organizational development and of course networking with our partners. I am happy to get in touch with you and speak about our work and expertise and discover ways to start new collaborations or involve you in our mission.
I am looking forward to getting to know you and your ideas.
You can contact me at chair@wscf-europe.org.
My name is Patrick Ramsey. I was born in England, where I am now undertaking a PhD in mathematics at Lancaster University.
I have been a member of SCM Great Britain since 2017, and a trustee since 2020, but first got involved directly with WSCF-Europe last year, when I joined a working group looking at updating the by-laws. I am now the WSCF-Europe vice-chair, and as such share responsibility with the chair for developing the strategic work of WSCF in Europe.
You can contact me at vicechair@wscf-europe.org.
My name is Shoghakt Muradyan. I come from Armenia and work as Brand Manager. In 2020, I joined the European Regional Committee of WSCF-Europe as Treasurer.
I started my journey with WSCF-Europe in 2013, when I was delegated to represent SCM Armenia in the European Regional Assembly. After being elected as Chairperson of my SCM, my Movement became an associated member of WSCF-Europe.
As Treasurer, my responsibilities include budget preparation and financial management, overseeing and presenting budgets and financial statements, sharing budgeting reports, and working closely with the Regional Secretary  and other Board members, ensuring the stability, improvement and development of WSCF-Europe.
The European Representatives to the Executive Committee of WSCF Global:
Responsibilities:
Bringing the European perspective to the Global Executive Committee
Networking with the Global Office
Networking with the other regions of the Federation
My name is Marta Sappé Griot and I come originally from Italy, where I graduated in Law at the University of Turin. I am currently pursuing a Master of Law in Münster (Germany).
I joined the SCM Italy as a teenager, and in 2013 I had the chance to attend my first WSCF meeting, which I loved. Few years afterwards, I became a member of the WSCF Executive Committee, where I am currently one of the two representatives of the European Region.
On a global level, I am also a member of the Constitutional Commission and of the Personnel Committee. On a regional level, I am part of the European Regional Committee and of the Advocacy & Solidarity working group. My job is primarily to connect the European and the global bodies: a very challenging and enriching experience.
Feel free to contact me at exco1@wscf-europe.org
I'm Paudie Holly from SCM Ireland. I've been a member now for three years. I am also a PhD candidate in Trinity College Dublin's School of Ecumenics, based in Dublin. My studies focus on theological anthropology.
Right now, the things in WSCF which I find most interesting are: the new ideas in the Gender and Sexuality Working Group and the work of the Constitution Commission. As a member of the Constitution Commission, I look at amendments to the By-laws and the Constitution, that are proposed by the national movements. As a member of the Gender and Sexuality working group I am really enthusiastic about the great leaps forward modern Christians are making.
Responsibilities:
Connecting SCMs with each other
Connecting SCMs with WSCF-Europe
Training program for SCM staff and officers
Hello everyone, I am Sarah and I am a student of Philosophy and Comparative Theology in Paderborn, Germany. Since 2021 I am engaged as the links coordinator of WSCF Europe.
My journey with WSCF Europe began in 2019 where I was a delegate for SCM Germany at the European Assembly in Copenhagen. It was my first international event with ecumenical interested students from all over Europe. I really loved the open-minded and supportive atmosphere of the event and decided to do an internship at the regional office in Trento in 2020. This insight in the structure of the organisation helped me with my current work in the European Regional Committee.
If you have any questions regarding movement-building, the possibility of a membership at WSCF or just want to connect with other SCMs feel free to contact me at links@wscf-europe.org.
Lea Heyl from Austria, Student.
Hey everyone, I am Stina Tysk.
I first got to know about WSCF back in 2013. After being active in SCM Sweden from 2018 I was elected vice-chair in WSCF-Europe in 2019, and I have been the global networking coordinator since 2021. I hold a MA in Theology from University of Gothenburg and I am ordained for ministry in Church of Sweden. I represent WSCF in Religions for Peace's International Youth Commitee. My fields of interest lies in ecojustice, womens tights and interreligious dialogue/ecumenism.
Hi everybody, I am Henriette Greulich. I am currently doing my master's degree in political science at the university of Dresden. I serve at WSCF-Europe as the programme coordinator since November 2022.
I actually joined the local SCM in Dresden when I started studying because my mother told me about her great experiences and lifelong friendships from her days involved in a SCM. Since 2016, I am engaged with my local SCM in Dresden and at the national level with SCM Germany, from where I am delegated to represent young people and students in the synod of the German Protestant Church.
In 2019, I got in touch with WSCF-Europe participating in the study session on Youth Extremism in Utrecht. Being together with inspiring young students from all over Europe and learn about youth leadership within the Churches and Politics was a unique experience. As a programme coordinator my work encompasses organizing all of our current and future events. My aim for that is to create events, where people from all over Europe can bring their unique vision, creativity, dedication and passion to the table.
If you want to get in touch with me about any of our events or our agenda, please send me an e-mail to programs@wscf-europe.org.
My name is Jennifer Blackledge. I was born in the UK; I am now studying for a degree in politics that I started at Strathclyde University and am now finishing at the University of Salford.
I have been a member of SCM Great Britain since 2017 where I was involved in SCM Glasgow then I went on to be involved in starting back up SCM Manchester. I first got involved directly with WSCF-Europe in 2019 where I represented SCM Britain at the ERA in Copenhagen. Since then, I have attended several WSCF-Europe events including the study school in Utrecht.
I am now the WSCF-Europe Campaigns Coordinator. I am responsible for creating campaigns to advocate for the issues that we see as important..
If you have any creative suggestions you can contact me in campaigns@wscf-europe.org.