Living faith together for justice.
We are the European Region of the World Student Christian Federation. We are proud to be the bridge between grassroot Student Christian Movements (SCM) across Europe. Our SCMs work at local or national-level, bringing together young Christians to work on diverse social and religious issues.
As a global organisation, the World Student Christian Federation (WSCF) connects SCMs from across different world regions through events, networking and thematic work. Being an ecumenical organisation, SCMs of all denominations are welcome.
We are passionate about supporting young people, empowering them to advocate for the causes that they care about and affect their communities. We combine ecumenical leadership with education on social issues and activism to make youth an active driver for change. Our work happens through capacity-building training sessions, campaigns, advocacy/solidarity work and our magazine Mozaik. The European Regional Committee (ERC) leads the work of WSCF-Europe.
Our work is governed by the WSCF Constitution and the WSCF-Europe By-Laws, and through our governance structure. We are part of a WSCF Global General Assembly, which is the highest decision-making body of the Federation. We also organise our own European Regional Assembly, which elects our European Regional Committee and decides on the thematic priorities of our work.
Our vision and mission align with those at the global level, but also seek to reflect the challenges, drive and ambitions that student Christian groups in Europe specifically have.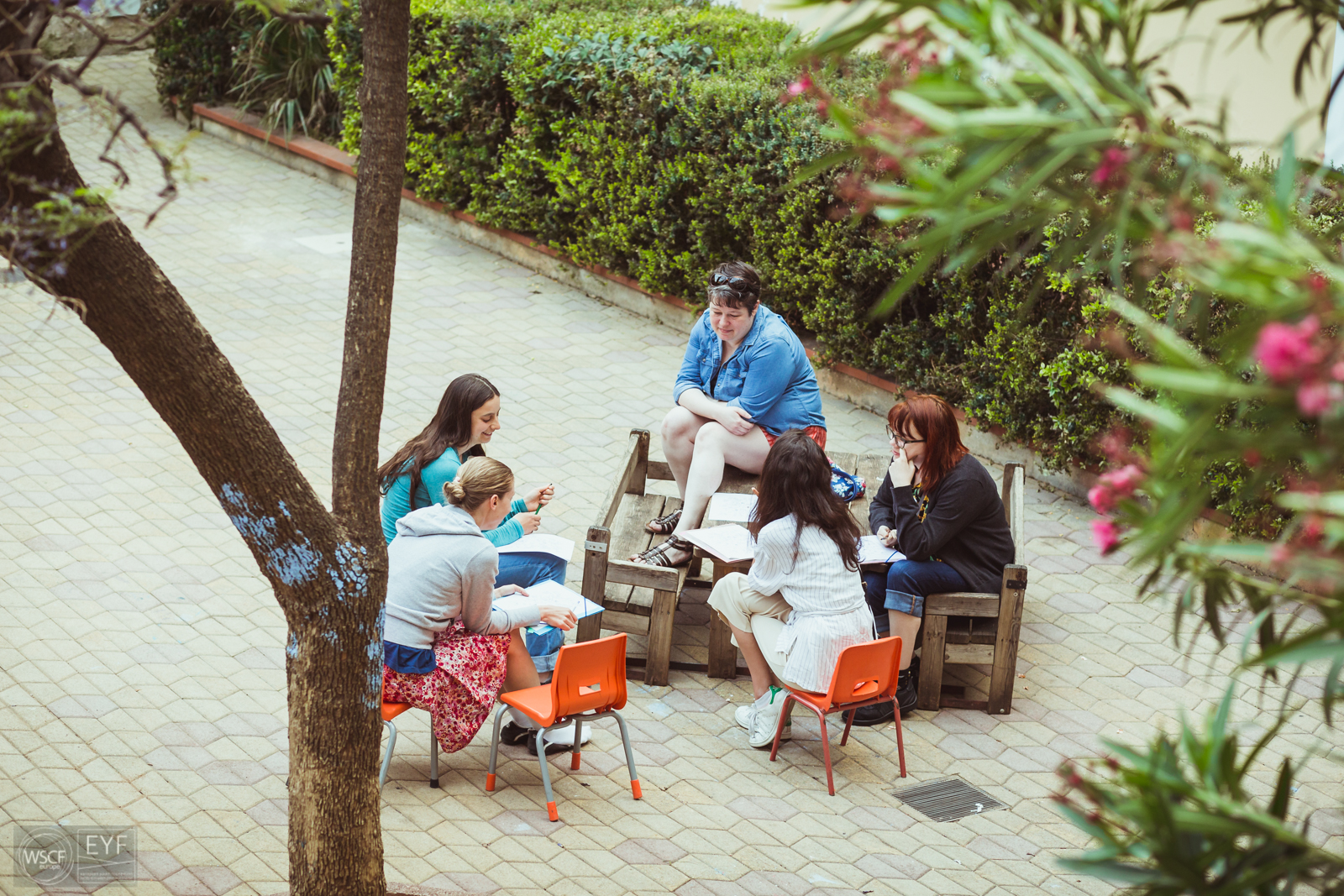 Living faith together in love, justice and peace.
We stand for a world in which the voices of young people, but also of those who are vulnerable, treated unjustly and not receiving the respect that all human beings deserve, are heard – a world in which these voices come together through faith, bringing love, justice and peace and changing the world around them.
Building a just and perfect world for everyone.
Inspired by our common Christian faith:
We campaign for a just and peaceful world;
We are a progressive Christian voice, aware of our political responsibility;
We educate and empower one another to be leaders and critical thinkers.
We build meaningful relationships;
We share and cultivate our passions;
We embrace diversity as a gift.
We pray and worship God together as one community;
We explore our common faith in Jesus Christ, which makes us one.
As a global organisation, WSCF-Europe has two layers of governance: one at the international level, that brings together representation from the six regions of WSCF, and one at the regional level, which brings together representatives from all of the European Student Christian Movements that are at the heart of WSCF-Europe.
Both layers ensure that the voices of young Christians worldwide are heard and that their concerns and issues become the main priorities that guide the ecumenical and social justice work that WSCF does, at both the regional and global level.
How the WSCF and WSCF-Europe structure works
The General Assembly (GAs) is the most representative and highest decision-making body of the global World Student Christian Federation. General Assemblies or General Committees of WSCF have taken place since the Federation's foundation meeting in 1895.
GAs are organised every 4 years and involve every national member movement of the Federation, along with the WSCF Executive Committee Officers, Inter-Regional and Regional staff. The Assembly sets out the objectives and priorities of the Federation's programme and policy for the upcoming 4-year period. Our current Global Strategic Plan can be found here.
WSCF GAs are also opportunities for inter-regional dialogue and awareness-raising. Each GA has a theme that focuses the forum's reflections, cultural exchanges through the sharing of performing arts and liturgical traditions, as well as through conversation, working together and general interaction amongst the Assembly's participants
• Review and assess the situation of the member movements;
• Assess the situation of the regions;
• Review the work of the Executive Committee; and
• Assess the worldwide situation of the Federation.
• 2021 – Berlin
• 2017 – Online
• 2015 – Bogota, Colombia.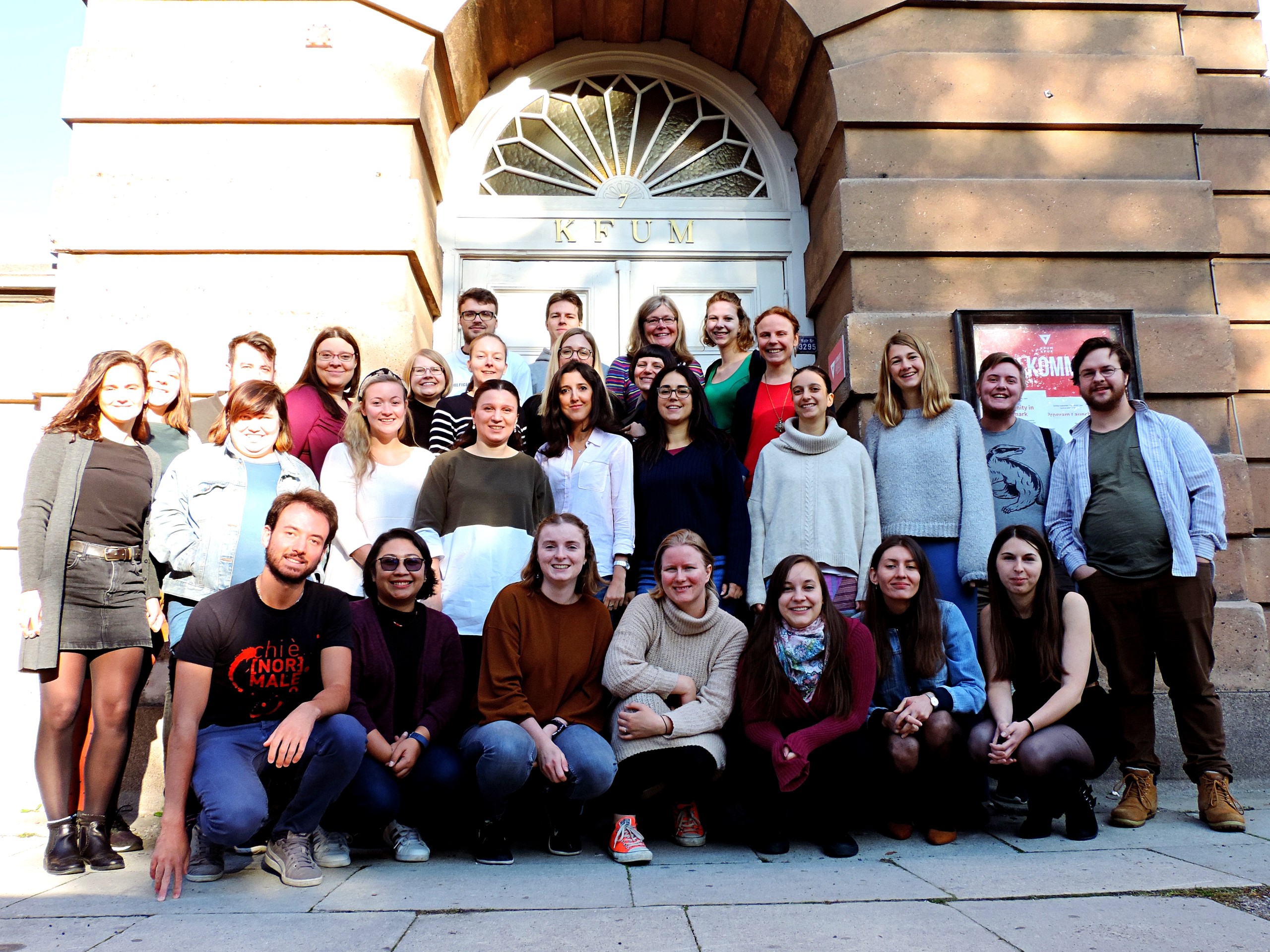 European Regional Assemblies
The Regional Assembly of WSCF-Europe (ERA) is the highest decision-making body of WSCF-Europe. The ERA gathers bi-annually, and consists of representatives of all the Student Christian Movements that are members of WSCF-Europe.
The first mention of an ERA can be found in the documents attesting the 11th European Student Conference, which took place in 1987, in Boldern, Switzerland. The conference was themed "Europe – unfinished business. The identity of Student Christian Movements in a Diverse Europe", and an ERA was included in its programme.
In 1989, the European Regional Office moved from Uppsala, Sweden, to Amsterdam, Netherlands. Instead of a European Student Conference, the European Regional Committee decided to hold that year's European Regional Assembly separately – in late August, in Firenze, Italy. At that ERA, the WSCF-Europe By-Laws were approved.
Discuss and vote on the organisational and thematic direction of the region for the next 2 years;
Elect a new European Regional Committee (ERC), which consists of representatives of the Federation's associated and affiliated movements;
Review and vote upon possible changes to the By- Laws, which govern as the constitution of WSCF-Europe; and
Renew as a community and to pray together for a common vision.
2021 – online
2019 – Denmark
2017 – Ireland
2015 – Czech Republic
2013 – Austria
2011 – Denmark
2009 – Romania
2007 – France
2005 – Serbia
2003 – Finland
2001 – Germany
1999 – Italy
1997 – Norway
1995 – Romania
1993 – Sweden
1991 – Germany
1989 – Italy
1987 – Switzerland
1985 – Finland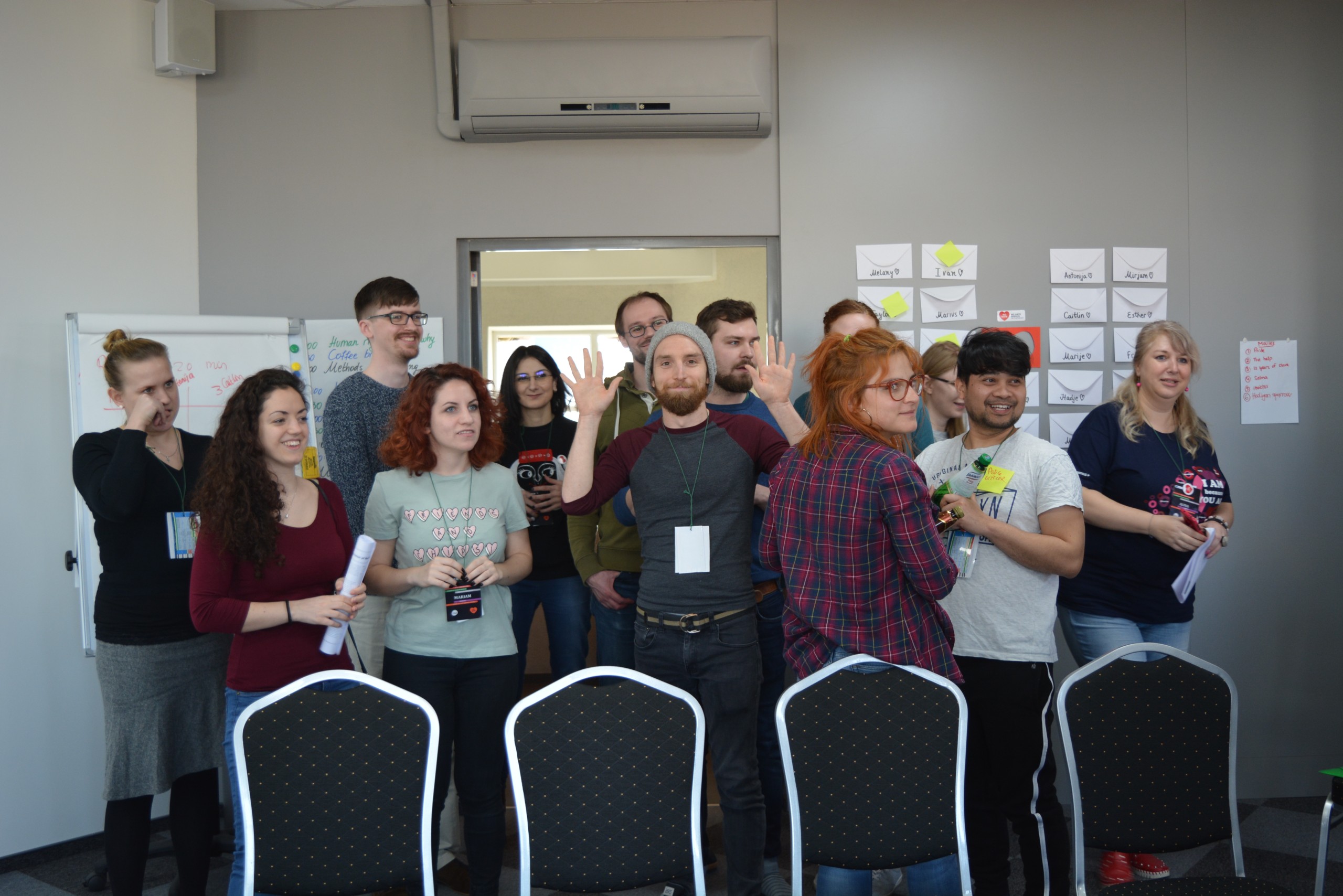 Staff and Officers' Meetings
Staff and Officers' Meetings are held once or twice per year for the leadership team and staff members of WSCF-Europe, in order to review and plan the work of the organisation in-between the ERAs. This includes reviewing the planned events and activities for young people, planning ahead for new activities, reviewing finances and any staffing issues etc.
Staff and Officers' Meetings are also occasions for team building, getting to know each other better and form a strong team, which works together effectively and compassionately to deliver exciting and meaningful activities for young people and young Christians across Europe.
The most recent Staff and Officers'Meetings
2019 – Malente, Germany;
2018 – Palermo, Italy;
2017 – Vilnius, Lithuania.
The World Student Christian Federation (WSCF) was established in 1895 at Vadstena Castle, Sweden, by students and student leaders from ten North American and European countries. Key founders included John R. Mott (USA) and Karl Fries (Sweden).
There is a close historical connection between the WSCF and the Young Men's and Young Women's Christian Associations. Mott, for example, was leader of the YMCA, and with the help of YMCA colleagues he developed the vision and strategies for forming an international federation of autonomous and self-directing ecumenical student movements. Much of the subsequent work of establishing and linking SCMs was done with the assistance of YMCAs and YMCAs.
During and after the World Wars, the WSCF played a key role in refugee work in Europe and strove to keep communication and solidarity links open between Christians divided by nationalism and war. After the First World War, the WSCF established European Student Relief. For four years, students of 42 nations provided over £500,000 for the relief of starving students in 19 countries.
Until the late 1960s, the international staff of the WSCF were based in Geneva. A major structural change in 1972 decentralized the WSCF into six regions: Africa, Asia-Pacific, Europe, Latin America, Middle East and North America. The Geneva headquarters became the inter-regional office. Programmatic and decision-making work shifted to the regions, reflecting the new mood of self-determination in third-world countries and the search for contextualization in theology and politics. This is essentially the process that gave birth to WSCF-Europe, as known today.
In the 1960s and 1970s, WSCF movements, especially in North America and Europe, were closely involved with the radical political movements. Their political solidarity and their critique of education convinced them that their mission field was no longer in educational institutions only, but on the streets and in the villages. The theme of the WSCF in the 1970s – Christian Witness in the Struggle for Liberation – sums up the broadened, renewed political commitment of the WSCF at the same time it moved to a regional structure.
WSCF-Europe works closely with other ecumenical, faith-based and youth organisations in Europe, and with a number of European institutions with a vivid focus on youth work and youth issues. We value these relationships, as they contribute to enhancing our mission of building a just and peaceful world for everyone and supporting young people across Europe.
Have you attended a WSCF-Europe event many years ago? Were you on the European Regional Committee? Are you interested in supporting our work, even though you weren't a part of the movement during your university years? Did you answer yes to any of these questions? Then you can become a Friend of WSCF-Europe!
How you can get involved and reconnect.
Become a speaker or lead a workshop at one of our events
Connect WSCF-Europe with students in your area
Build a local Student Christian Movement
Engage with other Friends of WSCF-Europe online and at our in-person gatherings, and support the communications and gathering preparations
Give advice and/or become part of the Advisory Board
Help us fundraise, advertise and network
Financially support the work of WSCF-Europe
Keep us in your prayers and thoughts
Subscribe and/or contribute to our ecumenical journal MOZAIK